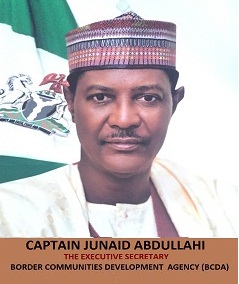 As the Executive Secretary of Border Communities Development Agency (BCDA) of the Federal Republic of Nigeria, Captain Junaid Abdullahi is responsible for the execution of the policies approved by the Governing Board of the Agency and the day to day administration of affairs of the Agency. With qualifications in commercial jet and helicopter piloting, Captain Junaid Abdullahi has vast experience in aircraft operations and air transport management. He is an astute manager both in the aviation and business sectors.
In his role as the Executive Secretary of Nigeria's Border Communities Development Agency, spanning 21 Border States and over 3,000 communities, he has consistently demonstrated exceptional management skills in developing and implementing sustainable development initiatives. His passion for environmental sustainability and border security is reflected in his activities in the integrated aerial pest control management in trans-border migratory pest in the 16 northern frontline States in Nigeria. The sustainable outcomes of the Agency's socio-economic and infrastructural development activities in recent years are seen as an integral approach to sustainable border security.
Captain Junaid Abdullahi is a strong advocate for process integration for socio-economic intervention. This, he applied in his sustainable social and economic infrastructural development approach to effective border security management in Nigeria. Captain Junaid Abdullahi loves farming, golfing and polo.