Ministerial Ad-Hoc Defense and Security Think – Tank Team paid a courtesy visit to the Border Communities Development Agency (BCDA) on Tuesday, 30th October, 2018 to evaluate security challenges in the country and its bordering communities.
The chairman of the committee General Abdul Hamid Malik said the committee's main focus is to appraise the security challenges in Nigeria, of which Boko Haram Militancy, Movement of arms at national and domes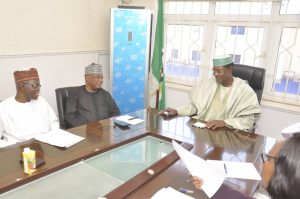 tic levels are the greatest.
The committee seeked for collaboration with BCDA to find ways in working together and make life better in the border areas to enable them have a sense of belonging as Nigerians and to gain their total loyalty to the nation for maximum border security.
The Executive Secretary of the Agency in his speech thanked the committee for the visit. He informed them that the Agency is doing all it could to ensure that people of the border communities have all the necessary amenities they need, as it will determine their loyalty to the nation. He further said that both BCDA and the committee have a vital role to play in the border areas and should therefore complement each other.
The Executive Secretary added that security and development are intertwined and need each other to function well.
In attendance were the Management Team and some other staff of the Agency.