The Executive Secretary BCDA, Captain Junaid Abdullahi, accompanied by Management Members of the Agency paid a courtesy visit to the Honourable Minister of Interior, Ogbeni Rauf Aregbesola who is also a member of the Governing Board of the Agency. The visiting team were warmly received by the Honourable Minister and Management Members of the Ministry.
The purpose of the courtesy visit was to seek possible areas of collaboration and partnership for the benefit of people living in the Nation's Border Communities.
The Executive Secretary in his address, thanked the Honourable Minister for his incisive contributions during the Agency's Governing Board meetings specifically the virtual board meeting held on the 20th, December, 2020 during which Minister raised salient points that are very important to the Agency's Strategic Action Plan. He went further to solicit the collaboration and cooperation of the Ministry of Interior and other stakeholder Agencies under its supervision towards the successful implementation of BCDA's 5 Year Strategic Action Plan.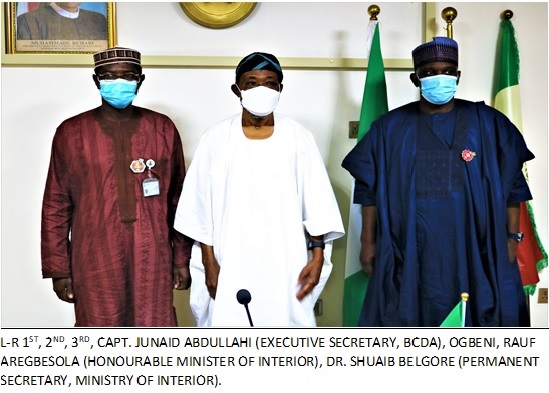 The Honourable Minister in his response observed that, though the Agency is seriously underfunded to carry out its mandate, it remains a strategic Agency of the Federal Government and a purpose vehicle to bringing government's presence to the people living in the Border Communities. He stated further that he'll support and push for adequate funding of the Agency at the Executive level. The Minister also advocated for a security component in the BCDA 5 Year Strategic Action Plan that will involve collaboration with relevant Security Agencies whereby sensitization programs/activities would be jointly carried out for the benefit of the people residing in the Border Communities.