The Head Special Projects led the Leadership Newspaper on a visit to Border Communities Development Agency (BCDA), recently. The visit took place at the conference hall of the Agency's corporate headquarters.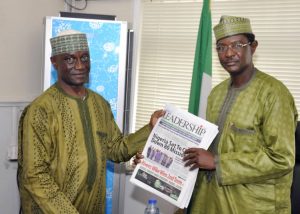 The Executive Secretary of the Border Communities Development Agency (BCDA) Captain Junaid Abdullahi personally received the Leadership delegation. In his welcome address, the Executive Secretary extols the good work which the newspaper has been doing as the fourth Estate of the realm. He commended the Leadership newspaper for its objectivity in journalism.
The Leadership newspaper team which was led by Mr Abubakar Momoh, thanked the Executive Secretary for the privilege given to them to visit and solicit for partnership with the Agency in areas of publicity. He explained the various publication on their stable and tenets of their profession. He outlined what the Agency stands to gain by partnering with them and promised to give coverage to the BCDA's numerous activities. He further explained that the leadership newspaper has a very wide reach and it is a national paper that can add value to the activities of the Agency.
The Executive Secretary and Management of BCDA got clarifications on issues of mutual benefit to both organizations and promised to partner with them as this will enhance the publicity of the Agency's activities.