BCDA HAS A NEW EXECUTIVE SECRETARY
The new Executive Secretary, Captain Junaid Abdullahi resumed office on Thursday, 18th October, 2018.
Shortly after his resumption, a handover meeting was held with the Outgoing Director, Management of the agency and Units Heads.
In her handover address, the Outgoing D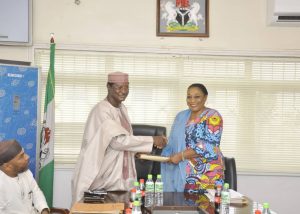 irector Mrs. Jummai Idakwo expressed her appreciation to the Management Team and the entire Staff of the Agency for the cooperation received throughout the period she served as Overseeing Director. She enjoined Staff to extend the same working pattern with the New Executive Secretary as she presented her Handover Note to him.
The Executive Secretary, in his response said it was an honour and privilege to join the Agency's Management Team. He said with the strategic nature of the Agency to Government, the task before the Management is to reposition, reinvigorate, reorganize the Agency in line with its mandate for effective delivery.
He emphasized on the need for proactive approach as our major responsibility is to bring socio-economic development to the border communities who though are in large population are isolated due to poor roads and communication networks, and are vulnerable to cross border banditry, smuggling activities and infiltration by undesirable elements.
He further said, the focus areas will be to conduct NEEDS Assessment to prepare a five-year program of action for the development of the border communities. This, he added will be achieved after a repositioning of the Human Resources which is the biggest asset of the organization.
The Executive Secretary was accompanied in the event by his support Staff.